While USB-C is not yet a must-have, it is certainly a great feature to have on any computer. The reversible standard can act as a single port for expansion, making extremely thin laptop and tablet designs possible. In other words, having big integrated legacy ports like Ethernet or USB Type-A aren't really needed, thanks to useful dongles.
Today, SMK-Link Electronics announces a beautiful such expansion dongle that acts as a docking station for Windows 10 and macOS. A single Type-C port on your computer (such as on the Apple MacBook or Huawei MateBook) can be transformed into something much more.
"Utilizing a single USB-C port, our new USB-C Multi-Port Hub enables all of the computer connectivity you'll ever need: providing the options of a desktop docking station in a portable size. Replacing a handful of adapters, the Multi-Port Hub does not require power to supply HDMI, network adapter, SD Card Reader and USB 3.0 connections. Plugged in, however, it also provides power to external USB drives while charging your laptop", says John Blair, General Manager of Branded Products for SMK-Link Electronics.
Blair further says, "the Multi-Port Hub is perhaps the easiest docking station you will ever own; but more important is the broad range of applications it enables. Connect your USB-C enabled laptop directly to local area networks, view HD and UHD (4K) video via HDMI on external TVs and displays, connect via high speed USB 3.0 ports to printers and solid state drives, capture photographs from SD and Micro SD memory cards and more. And when it's time to travel, simply slip the portable Multi-Port Hub into your laptop bag, and take this universe of connectivity with you".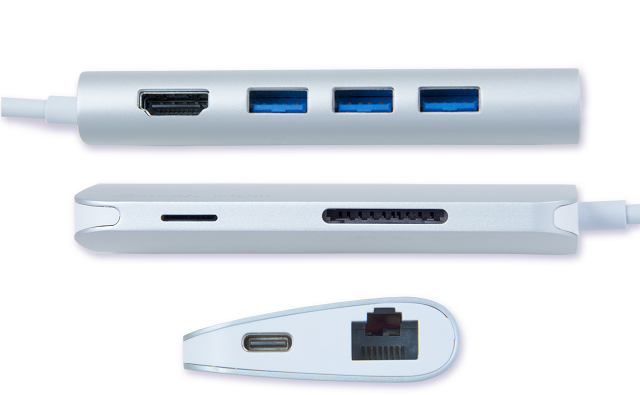 Below is a list of the expansion ports provided — you can see an image of them above.
USB-C Charging Port
HDMI HD Video Port (up to 4K)
Gigabit Ethernet Port
Three high speed USB 3.0 Ports
SD and Micro SD Memory Card Readers
While there are many such dongles, this is one of the most well-rounded portable variants I have seen. By keeping this in your laptop bag, you can essentially have a desktop with you wherever you go. Even if you just need to access an SD card, you can quickly pull it out and connect it — no power needed.
If you are interested in purchasing this beautiful USB Type-C dongle, you can get it later this month for $99.99. You can read more about it here.